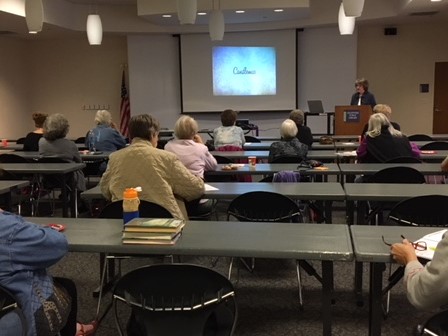 The Definition of "Blessed – Part One"
It has been incredibly busy these past six to eight weeks but oh what exciting weeks they've been!  I have been smack dab in the middle of launching and marketing my first book ever – Jane Austen Celebrates as well has having opportunity to speak to many groups on the very same subject. It has all been amazingly hard work but well worth it because of all the fun that's come along with it.
In November I had three speaking engagements on Regency Era holidays.  First off was the Entwined Minds Book Club at the Grapevine Public Library.  The talk was also open to the public.  It was a great group, and we covered a full year of Regency holidays.  They made it super nice by providing an amazing spread of holiday cookies candies and treats displayed beautifully for everyone to enjoy.  I next had the honor of speaking to a large group of active senior adults at the Belmont Village Retirement Center.  This was part of SMU's CAPE instruction program, and they'd asked me to speak on Merry Christmas, Jane Austen.  The group was so kind and interested.  There are a lot of Jane Austen lovers out there! It was fun to talk about the traditions we celebrate for Christmas that were also celebrated in Jane Austen's time.
The very next night found me on SMU's main campus talking about Merry Christmas, Jane Austen once again but expanded to include some special features including refreshments of wassail, Christmas Cake, Mince Meat pie, scones and chocolate iced biscuit crackers.  In the spirt of kicking off the giving season, each student was gifted with their glass punch cup in hopes of being able to "waes hael" someone else one day.  Everyone tried their hand at writing charades – Regency Style – and there were some very clever writers indeed!  At the end of class, everyone participated in the British tradition where each person takes a "cracker" in their right hand, crosses arms and then each pulls the other's cracker.  There's a sharp "whaaaaaaapppppppp!" and a small gift is revealed inside.  Everyone was abuzz as they left so I take that as a good indicator everyone had a great time talking about Jane Austen Regency Christmas traditions.  The next talk, Jane Austen Celebrates, is currently scheduled for April 10th back on SMU's main campus.  Who knows what surprises the evening might hold and what authentic British activities might be in store.  Registration just opened so hope to see you there!
The next BIG event was the book launch but there's so much to talk about in its regard we'll cover it in the next blog coming up super soon.
I have been incredibly blessed with amazing opportunities to speak on Jane Austen's Regency holidays and to meet some wonderful people who enjoy the same amazing author.  I have a book, the result of a lifelong dream, that is doing well and getting some very positive reviews.  I had a most enjoyable and memorable book launch – can't wait to tell all about it.  In short, I am the definition of blessed and blessed very richly.  The very best blessing of all is the love, support, encouragement and excitement showered on me by dear friends and sweet family.  Yes, I am truly the definition of blessed.
Next time, I'll talk about an afternoon at the Farm that created lifelong memories with the book launch's resounding success.
Until next time . . .
Happy Holidays!